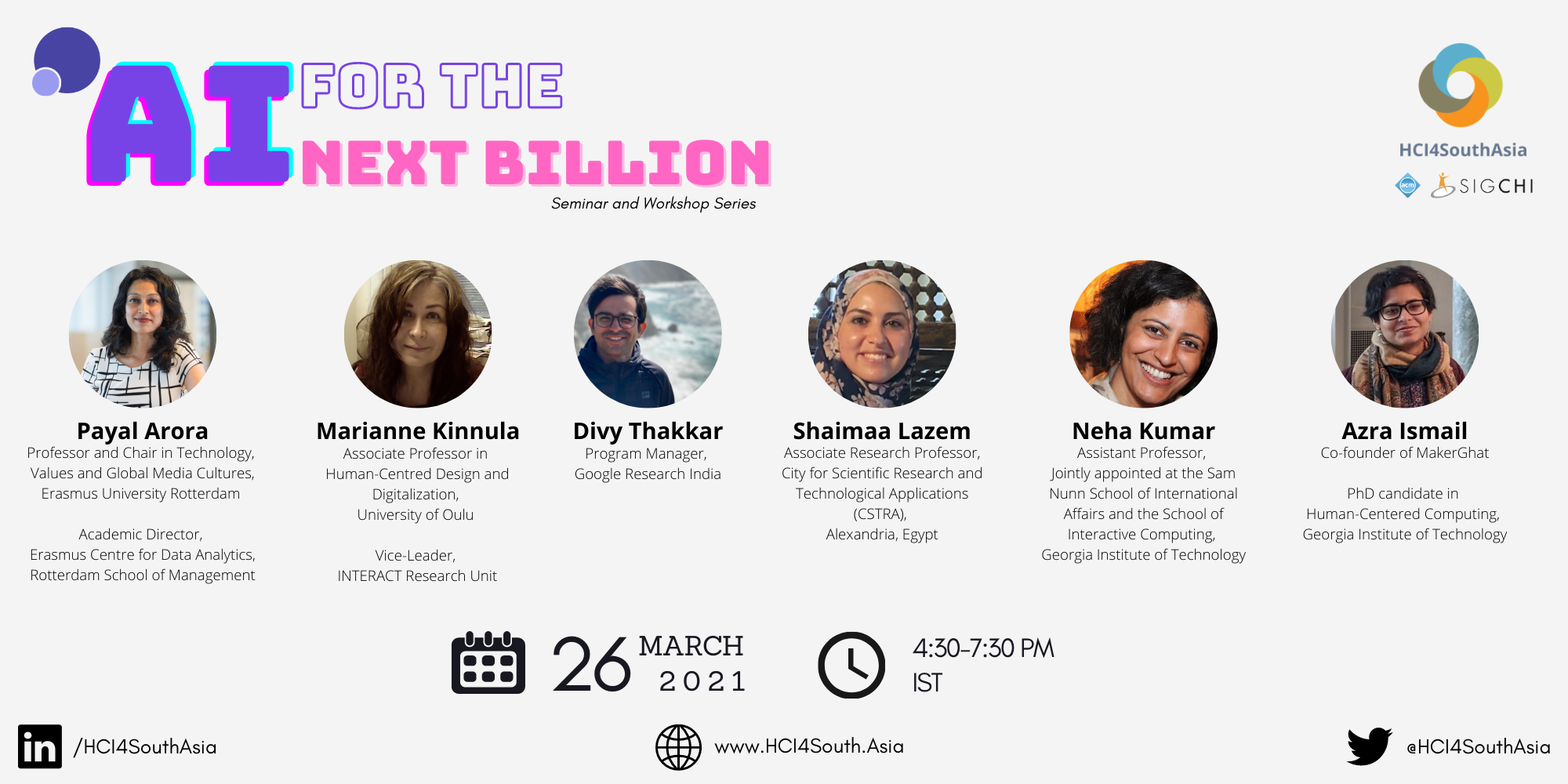 HCI4SouthAsia presents "AI for the Next Billion", a seminar and workshop series where experts from diverse disciplines working on Artificial Intelligence — Human-Centered AI, Ethics, Fairness Accountability Transparency and Ethics (FATE), Global Perspectives, Children, AI Policy, Accessibility, Autonomous Vehicles, etc — present and discuss their research and its the implications to society and the world at large, and the South Asian region in particular. Their research asks and addresses uncomfortable and crucial questions to provoke and challenge the current status quo.
Through these seminars, the HCI4SouthAsia community seeks to bridge barriers across disciplines and schools of thought, by bringing together expert researchers, policymakers, entrepreneurs, C-level business executives, and other influential decision-makers and stakeholders for the South Asian region, to engage in conversation about the role, and existence, of human-centred research towards the digital transformation of societies. 
---
The first seminar of the series is scheduled for March 26th 2021, 4:30-7:30 pm IST with keynote speaker Payal Arora and guest speakers Marianne Kinnula, Divy Thakkar, Shaimaa Lazem, Neha Kumar and Azra Ismail.
Sign up using this form <http://bit.ly/AI-for-Next-Billion>.
Location
The event is virtual. The URL to the event will be shared with registered attendees.
Time (IST)
Speaker(s)
4:30 – 4:45pm
HCI4SA – Pranjal Jain
Inauguration + Introductions
4:45pm – 5:05pm
+ 10min Q&A
Payal Arora
Keynote: AI for the Next Billion

5:15pm – 5:35pm
+ 10min Q&A

Marianne Kinnula
Empowering AI
5:45pm – 6:00pm
Break
6:00pm – 6:20pm
+ 10 min Q&A
Divy Thakkar
AI 4 Social Good – Examining datafication in the global south
6:30pm – 6:50pm
+ 10 min Q&A
Shaimaa Lazem
Pitching HCI to AI startups in Africa: The Big Questions
7:00pm – 7:30pm
+ 10 min Q&A
Azra Ismail and Neha Kumar
Human-Centered Design of Artificial Intelligence Systems for Frontline Health
7:30 – 7:35pm
Concluding remarks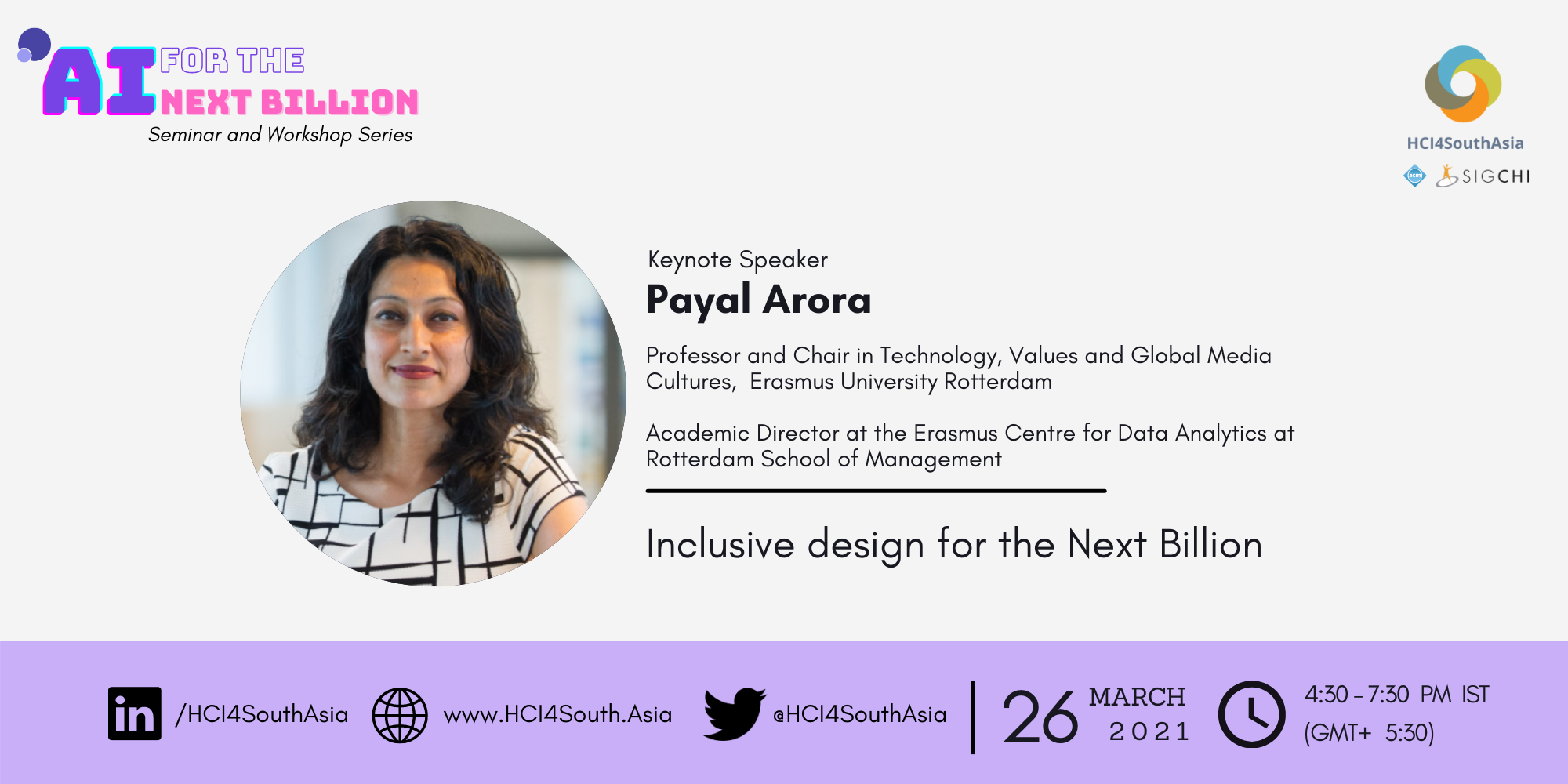 Speaker: Payal Arora  •  Talk Title: Inclusive design for the Next Billion
Payal Arora is a digital anthropologist and author of several books including the award-winning "The Next Billion Users" with Harvard Press. She is the founder of a digital storytelling organization Catalyst Lab and co-founder of FemLab.Co, an initiative on platforms & the future of work outside the West. She is a Professor and Chair in Technology, Values and Global Media Cultures at Erasmus University Rotterdam and Academic Director at the Erasmus Centre for Data Analytics at Rotterdam School of Management. Her expertise lies in ethical AI, inclusive design, and user experiences among low-income communities worldwide and comes with two decades of fieldwork in such contexts. Forbes named her the "next billion champion" and the right kind of person to reform tech. Several international media outlets have covered her work including the BBC, The Economist, Quartz, Tech Crunch, The Boston Globe, F.A.Z, The Nation and CBC. She has consulted on tech innovation for diverse organizations such as UNESCO, KPMG, GE, and HP and has given more than 200 presentations in 54 countries and delivered keynotes alongside Jimmy Wales and Steve Wozniak and a TEDx talk on the future of the internet. She sits on several boards such as Columbia University Earth Institute and World Women Global Council in New York. She is Indian, American, and Irish and currently lives in Amsterdam.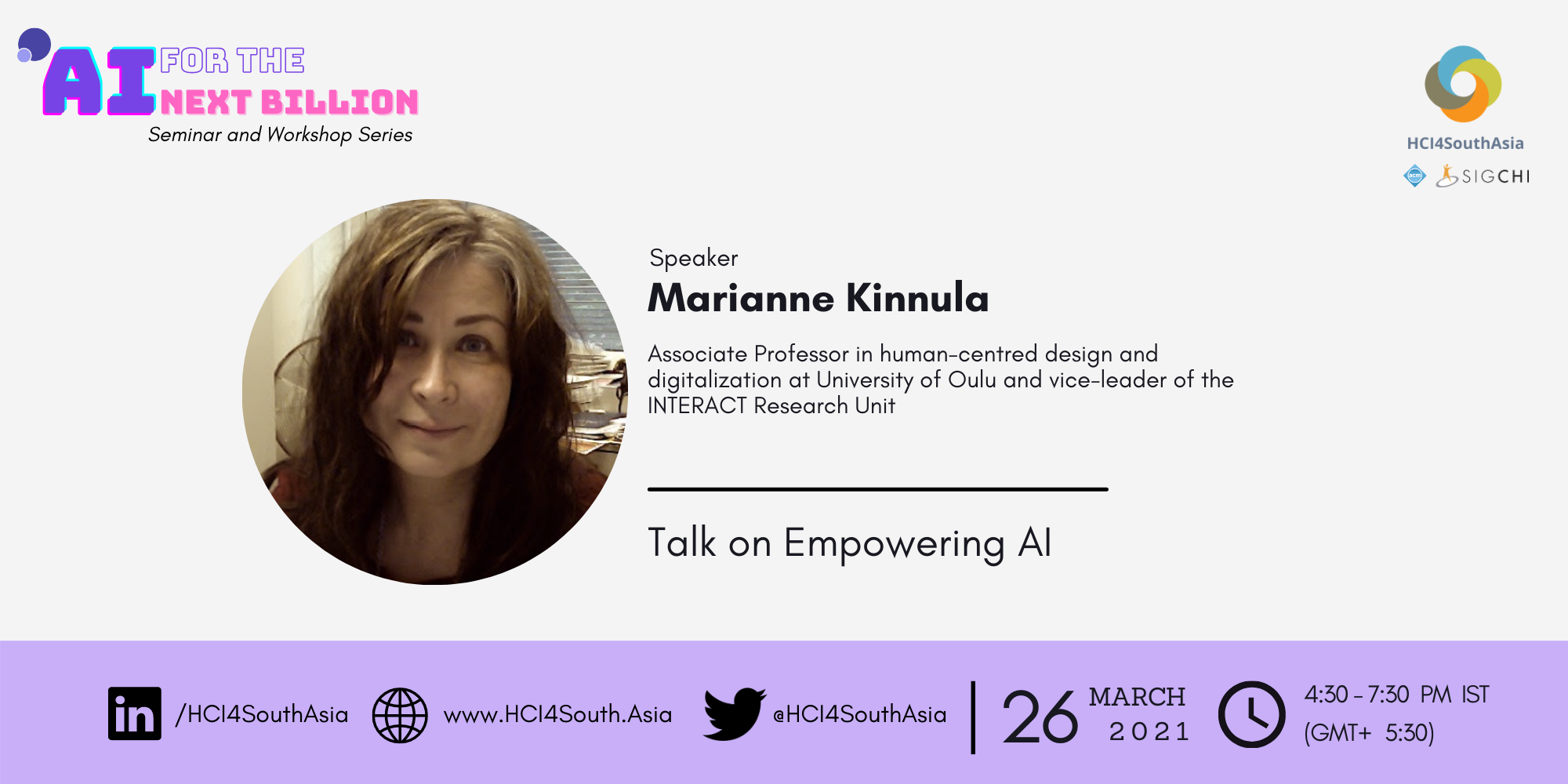 Marianne Kinnula is an Associate Professor in human-centred design and digitalization at the University of Oulu and vice-leader of the INTERACT Research Unit. Her research is in the crossroads of Information Systems and Human-Computer Interaction; she is interested in the sustainable use of technology in our everyday lives at different levels: individual, organizational and society level. Social inclusion, empowerment, and ethical stance in technology development and use are in the heart of her research. She holds an editorial position in the International Journal of Child-Computer Interaction and has published actively in leading Human-Computer Interaction and Information Systems conferences and journals. Her associate professorship is part of the University of Oulu 'Generation Z and beyond' profiling theme that aims for co-evolution of human capabilities and intelligent technologies in the 21st century (https://www.oulu.fi/genz).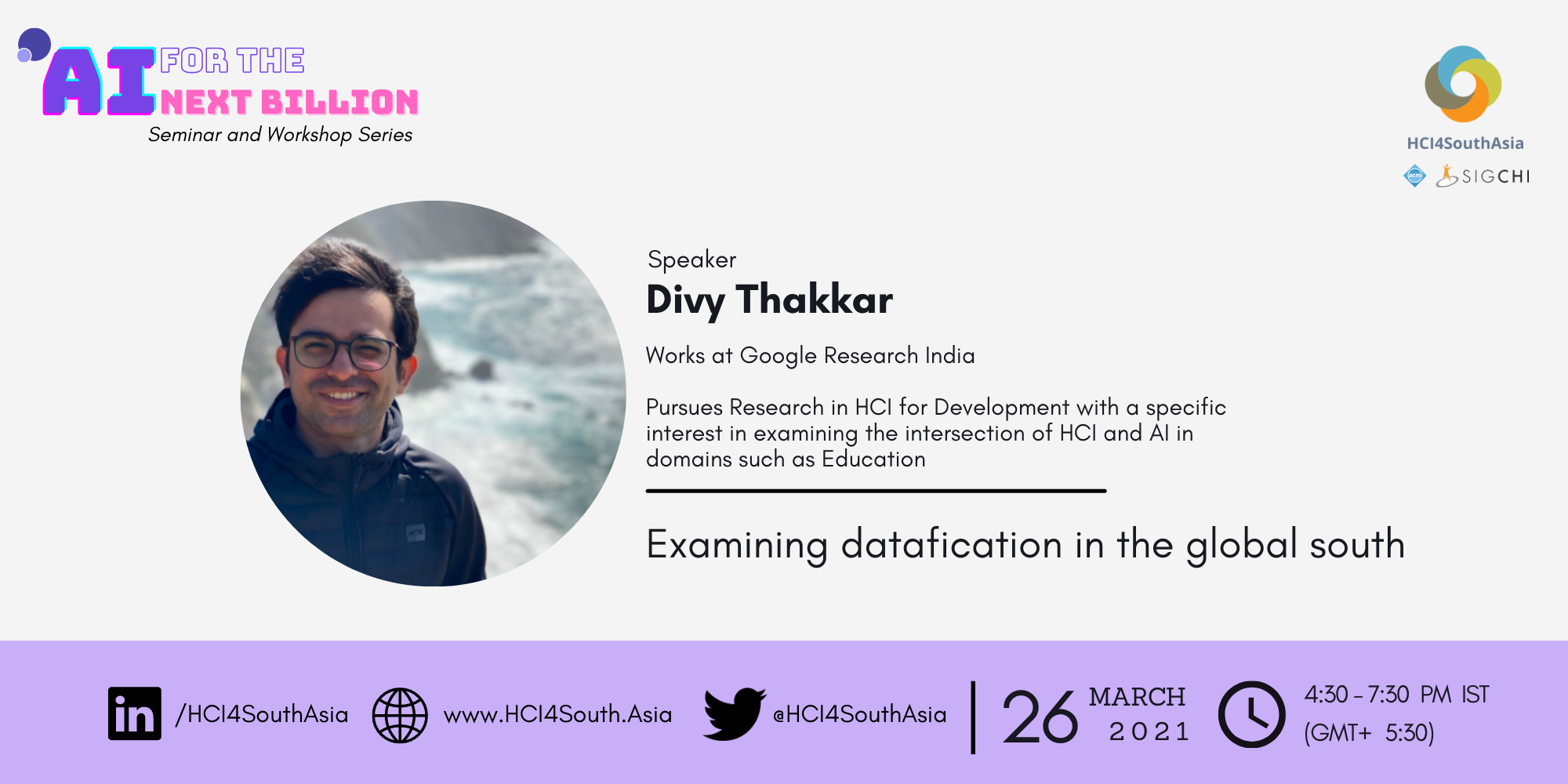 Speaker: Divy Thakkar  •  Talk Title: AI 4 Social Good – Examining datafication in the global south
Divy Thakkar works at Google Research India and pursues Research in HCI for Development with a specific interest in examining the intersection of HCI and AI in domains such as Education, Work and AI for Social Good applications.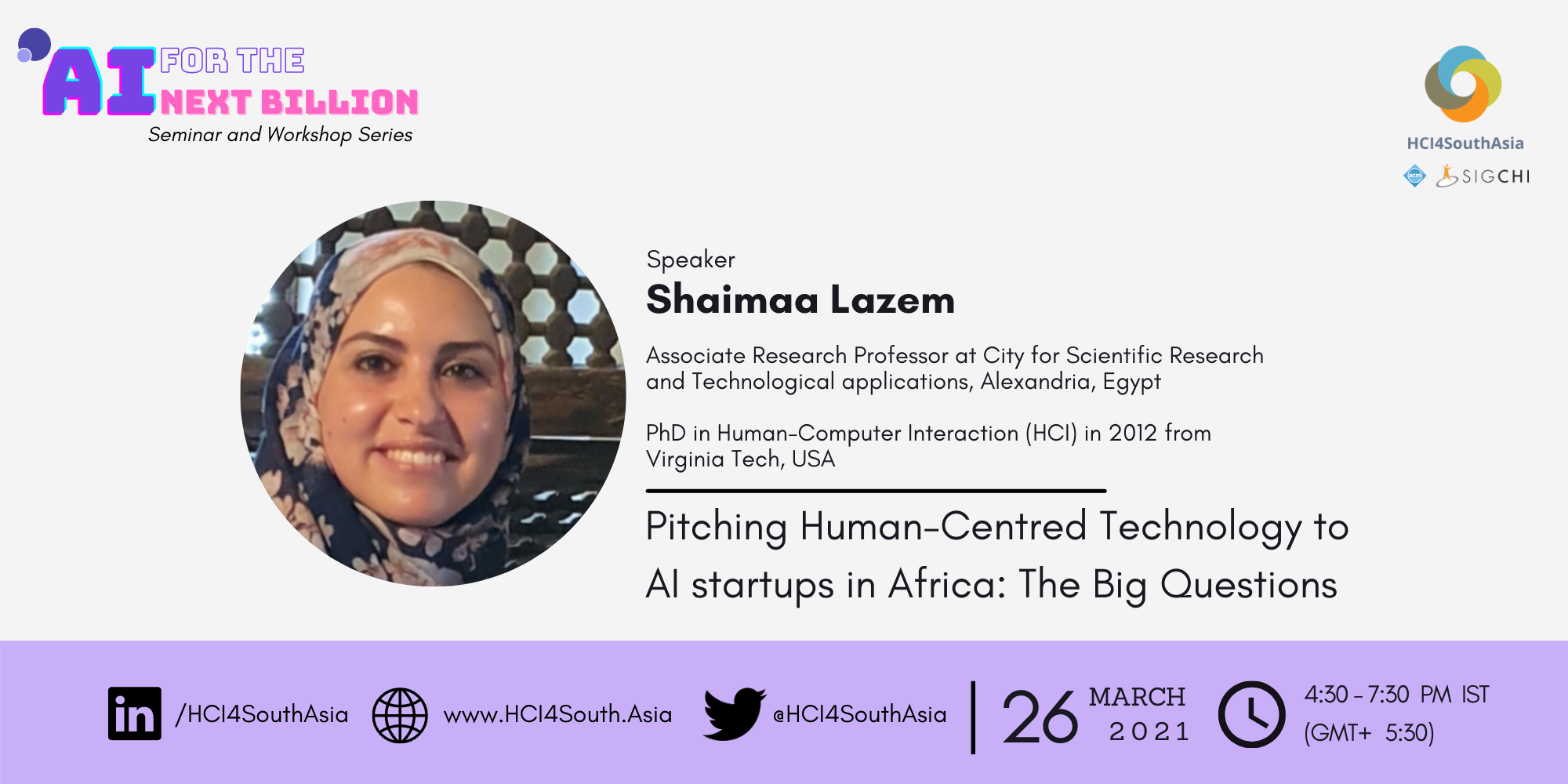 Speaker: Shaimaa Lazem  •  Talk Title: Pitching Human-Centred Technology to AI startups in Africa: The Big Questions 
Shaimaa Lazem is an Associate Research Professor at City for Scientific Research and Technological Applications, Alexandria, Egypt. She earned her PhD in Human-Computer Interaction (HCI) in 2012 from Virginia Tech, USA. She then returned to her home country Egypt. HCI was not a well-known subject among Egyptian students, Shaimaa designed hands-on HCI short courses and trained 130+ students to create prototypes of technologies that serve the needs of rural Egyptian communities. Her research interests include participatory design, post-colonial computing, and decolonizing HCI. Her previous projects included designing educational and heritage technologies for the rural populations in Egypt. She is a Leaders-in-Innovation Fellow with the Royal Academy of Engineering in London since 2018, and the co-founder of the ArabHCI community, which is an initiative that aims at recognising and promoting HCI research and education in Arab countries. She is the recipient of the Google 2020 Award for Inclusion Research in partnership with Prof. Anicia Peters from the University of Namibia, where they will work to create HCI courses for African students and tech makers with a special focus on design for social justice.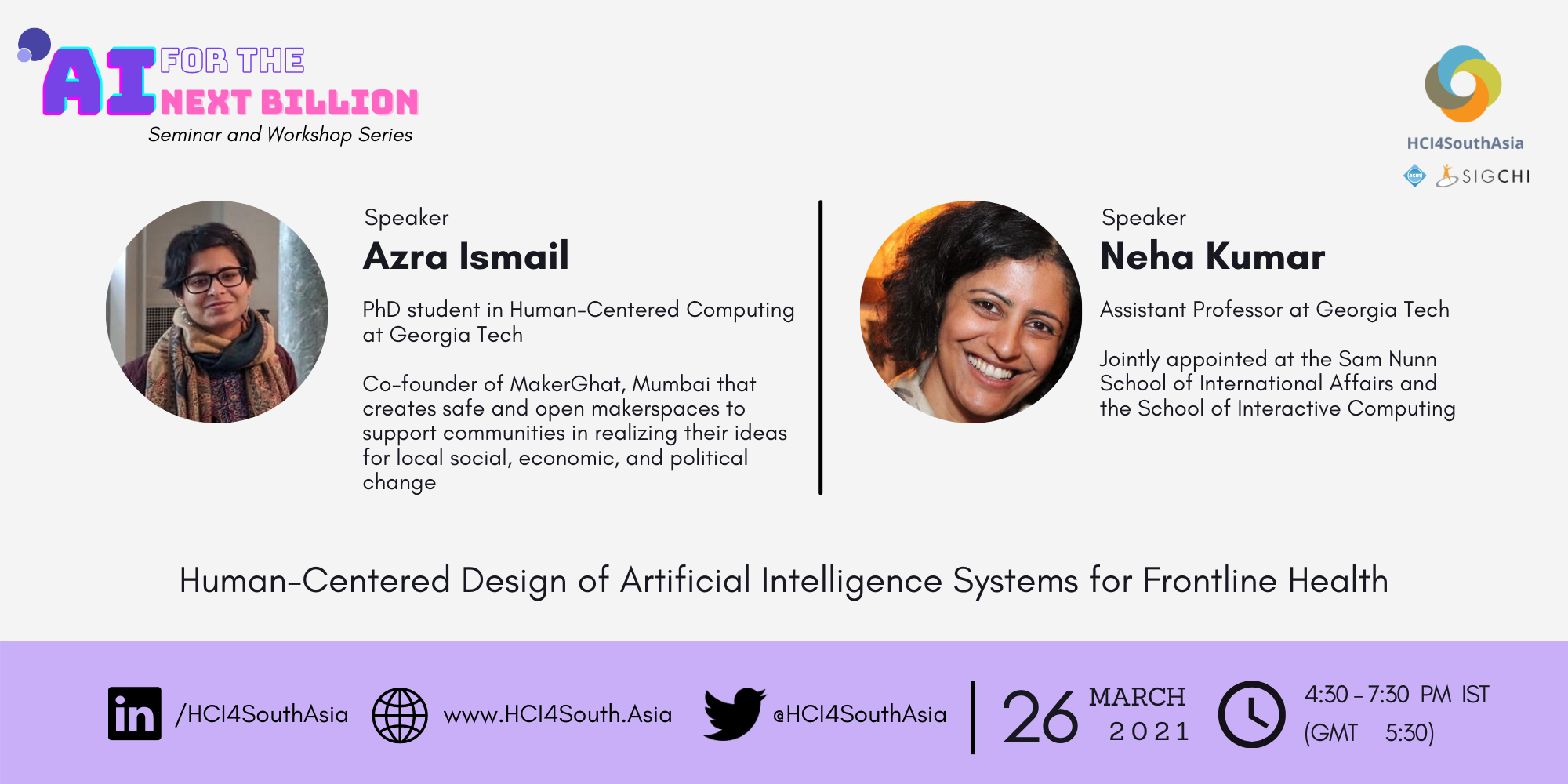 Speakers: Azra Ismail and Neha Kumar  •  Talk Title: Human-Centered Design of Artificial Intelligence Systems for Frontline Health
Azra Ismail is a PhD candidate in Human-Centered Computing at the School of Interactive Computing at Georgia Tech. Her research lies at the intersection of human-centred computing and global health, with a focus on the design of data-driven systems for women frontline health workers in India. Azra is also the co-founder of MakerGhat, a non-profit based in Mumbai that creates safe and open makerspaces to support communities in realizing their ideas for local social, economic, and political change.
Neha Kumar is an assistant professor at the Georgia Institute of Technology, U.S.A., where she conducts research at the intersection of human-centred computing and global development. In recent years, her research has investigated the role of mobile technologies in global health, with a focus on challenges around data, stigma, and gender. At Georgia Tech, she leads the TanDEm (short for Technology and Design towards "Empowerment") lab.